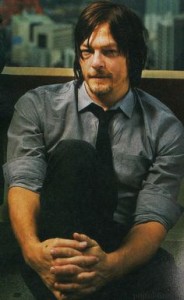 American actor and model, Norman Reedus, best known for his super incredible portrayal of the crossbow king Daryl Nixon in The Walking Dead is one of television's kick-ass heroes. Interestingly, he was a model in the 1990s, working with fashion houses most notably with Prada. It was also the same period when he began acting. He was already in his late 20s at the time. His first notable role was in The Boondock Saints, where he played a starring part. It was released in 1999 and had a sequel in 2009. Other movies in the 2000s which are well-known are Blade II and American Gangster. He also portrayed Lewis Payne in the Robert Redford-directed historical drama The Conspirator in 2010. Now, as mentioned, he enjoys playing a main role in the popular television series TWD. He's had three films in 2015: Vacation, Air, and Sky.
Now aged 47, everyone can agree that Norman doesn't look his age; not at all. This is because he has taken care of himself throughout the years through working out, and of course, eating healthy. These two are always interdependent with each other to be able to deliver the best results, and the action star knows it. Aside from being active with outdoor activities and cardio exercises, Norman makes sure his body receives sufficient nutrients.
For his role as a survivor in The Walking Dead with so many action and running scenes, to have a healthy lifestyle is a requirement to do his job well. He loves his body and he loves his job, so doing this is a win-win for him. In an interview with Men's Fitness, Norman said he stays lean and alert by eating clean. He usually has fresh foods and stays away from foods like pasta, sugar, and breads. He's more into lean proteins, complex, carbs, and fruits and vegetables, of course.