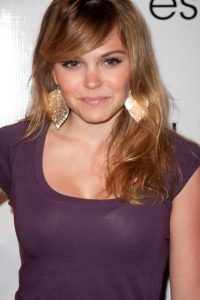 Hollywood actress Aimee Teegarden started her acting career in the early 2000s. During her initial years she guest starred on various TV shows. This includes Cold Case and Hannah Montana. She then got her main break after landing the role of Julie Taylor on the television series Friday Night Lights. While on the show, she appeared in 3 episodes of 90210 as Rhonda Kimble. She also continued appearing as a guest on various shows. Her first movie appearance was in The Perfect Age of Rock 'n' Roll. In the 2010s she had supporting roles in the films Scream 4 and Prom. She starred on an unaired pilot called The Selection. She next starred on the short-lived show Star-Crossed. She's now part of the main cast of the ABC series Notorious.
The actress is in her late 20s now. This got her starting to lead a healthier lifestyle. When she was younger, she admitted to being careless of her food choices. This is actually normal for young people, since they have fast metabolisms and they don't feel the negative effects of unhealthy eating, at least not yet. It is when they turn in their 30s that their metabolism starts to slow down and the effects of poor eating takes its toll. As for Aimee, she's started to practice a healthy eating diet even when she's just in her 20s.
The actress began being a vegetarian, then turned herself into a vegan. In an interview, she said: "I've gotten rid of all dairy. I feel a lot better, I feel cleaner, and ethically it makes me feel a lot happier going to sleep at night." Her sticking to a vegan lifestyle also contributed to her dramatic weight loss. While on Friday Night Lights, it was notable how she appeared heavier, but with her recent eating changes, she has transformed her body into a slender and more toned one.