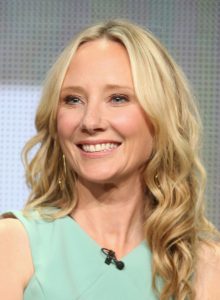 Hollywood star Anne Heche debuted as Vicky Hudson/ Marley Love in the soap opera Another World in 1987. She next appeared in the TV movies O Pioneers!, Against the Wall, Girls in Prison, and Kingfish: A Story of Huey P. Long. In 1993, she had her first movie role in The Adventures of Huck Finn where she played Mary Jane Wilks. In 1997, she had notable performances on the big screen — as Maggie Pistone in Donnie Brasco, Dr. Amy Barnes in Volcano, and Missy Egan in I Know What You Did Last Summer.
She then gained mainstream recognition for playing the female lead in the 1998 movie Six Days, Seven Nights. That same year, she played Marion Crane in the remake of Psycho. In the 2000s, she had notable performances on television. This includes the roles of Melanie West in Ally McBeal, Amanda Hayes in Everwood and Nicole Morretti in Nip/Tuck. She later played the lead role of Marin Frist in the comedy-drama series Men in Trees.
During this period, she also starred in the films Prozac Nation, John Q., Birth, and Spread. From 2009 to 2011, she starred as Jessica Haxon in the HBO series Hung, after which she played Beth Harper in the NBC sitcom Save Me. In 2016, she was the series lead Karen Copeland in the Canadian show Aftermath. She recently played Patricia Campbell in the NBC show The Brave and Katherine Brennan in Chicago P.D.
At age 50, Anne Heche remains fit and healthy. She credits her toned figure to her balanced diet and active lifestyle. No matter how crazy her schedule becomes, she makes great efforts to exercise. She mixes things up to keep her motivated, which is crucial in order to get her working out in the first place. According to her, she used to do yoga, but not anymore. Instead, she plays tennis as often as she can as her way of working up a sweat.