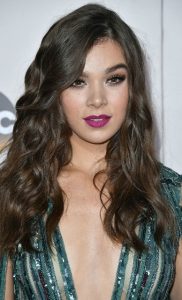 Hollywood star Hailee Steinfeld came to significant prominence after playing Mattie Ross in True Grit. The movie did not only earned her attention, it also earned her an Oscar nomination for Best Supporting Actress. This opened doors for her in Hollywood, which landed her starring roles in the films Ender's Game, Romeo & Juliet, Begin Again, 3 Days to Kill, and Pitch Perfect 2. Her performance in the 2016 movie The Edge of Seventeen also earned her a Golden Globe nomination for Best Actress. After performing "Flashlight" in Pitch Perfect 2, she official started a singing career. Her debut song was "Love Myself". Her single "Starving" reached #12 on the U.S. Billboard Hot 100.
Despite being young, the actress understands the importance of living a healthy lifestyle. Apart from healthy eating, she makes sure she works out, even for as briefly as 15 minutes. Considering her jam-packed schedule, it's hard to maintain a regular fitness routine, but she makes it possible. In an interview, she said: "My number one thing, considering my crazy, crazy schedule, is that I try to devote at least 15 minutes a day to getting some sort of physical activity in, whether it's riding a bike, taking a walk, even just walking around in my backyard for 15 minutes—just something to get some fresh air and the blood pumping."
She added: "I also spend a lot of time dancing when I'm on the road touring or if I have a performance coming up and I'm in rehearsals. I have six eight-hour dance rehearsals and that's where I get my workout in. Dance is definitely my workout of choice because I love the fact that it never really feels like I'm working out. Before I know it, hours have gone by, and I'm sweating and feel great." Interestingly, her father is a fitness trainer, so that's maybe one of the reasons she's health conscious.