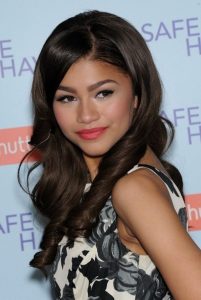 Hollywood star Zendaya had her beginnings only in the 2010s. Her debut as as Rocky Blue on the Disney series Shake It Up. While on the show she guest starred on Good Luck Charlie and A.N.T. Farm. She next starred on the made-for-television movie Frenemies. She had also joined Dancing with the Stars as contestant for Season 16. After this, she starred on the TV movie Zapped. She furthered her career after landing the lead role on the TV series K.C. Undercover. She has been on the show since 2015. She is set to star in the upcoming feature film Spider-Man: Homecoming. This will mark her big screen debut.
The 21-year-old actress, despite being young, is already conscious of her fitness and overall health. Her fans would also know that the actress-singer is also a vegetarian. She also set the record straight that she's a vegetarian not because she loves vegetables, but because she loves animals. She said: "My main reason for being a vegetarian is that I'm an animal lover — definitely NOT because I love vegetables."
She shared she thought about becoming a vegetarian at age 11 after finding out happens in a slaughterhouse. She said: "I thought it was awful, all those animals getting packed up in there waiting to be killed. I couldn't believe that's how I'd been getting my meat!" Then after seeing the documentary Glass Walls by PETA, she decided it's time to totally avoid eating meat. Though it was her in the beginning, she was able to get through it and now no longer craves meat. She said: "I don't like the taste of meat. It actually makes me feel weird. The only thing I kind of miss are my mom's famous turkey burgers, but that's it." But what does she eat as substitute to burgers, which she loved before? "Grilled cheese with grilled onions and extra spread," she said.