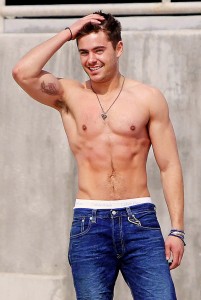 Former Disney star Zac Efron is now all grown-up and being a full-pledged adult suits him very well. Making his debut in Melinda's World (2003), he was noticed for his performance in Miracle Run released the following year, though it was his lead role in the Disney TV movie High School Musical that earned him widespread popularity. His prominence even grew with his performance in Hairspray. He also became more successful with his continuous starring performances in High School Musical 2 and High School Musical 3: Senior Year, released in 2007 and 2008. Following the High School Musical films, he starred in mostly well-known movies like 17 Again, Me and Orson Welles, Charlie St. Cloud and joined the cast of ensemble romantic comedy feature Valentine's Day. In the 2010s, he mostly acted in romantic comedy and comedy movies such as in Liberal Arts, The Paperboy, That Awkward Moment, Neighbors, and most recently We Are Your Friends.
From being a teen idol, Zac ultimately became a heartthrob especially after transforming himself into the lean, strong, chiseled-looking man that he is now. He most notable changed his physique for his role as a soldier in The Lucky One (2012). In order to look like the part, he underwent rigorous training to build muscles and lose weight. He may have had a laborious workout sessions before to achieve his required strength and appearance, but the actor is actually more fond of exercises that allow him to also have fun. This means that instead of hitting the gym too often, he prefers engaging into outdoor activities instead like hiking, cycling, running, surfing, rock climbing, as well as playing sports like soccer and basketball.
This way, not only does he develop his body, he also experience something he doesn't get to experience very often because of his work. Zac is also fond of working out early in the morning, so he starts the day strong. In addition, he did some weight training which resulted to his now lead body. He regularly performed squats, bench press, pull-ups, push-ups, bicep curls, tricep curls, weighted crunches and side bends for the abs. Moreover, the former High School Musical actor believes in the importance of taking things slow when it comes to building muscles.