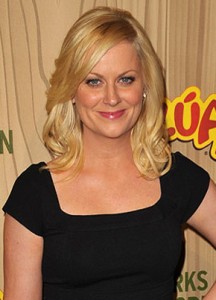 American celebrity Amy Poehler started her comedic career in the comedy groups Second City and ImprovOlympic before achieving her big break when she became a cast member of Saturday Night Live in 2001. While on the show, she appeared in a variety of movies, including Wet Hot American Summer, Mean Girls, Man of the Year, Blades of Glory, and played a starring role along her friend Tina Fey in Baby Mama released in 2008. After leaving SNL, she starred in the comedy series Parks and Recreation, which she also served as writer and executive producer. Her performance on the show also earned her Primetime Emmy nominations. She continued her work as a producer with the new series Difficult People, which began in 2015. She continued her work on the big screen as well, acting in They Came Together and Sisters.
The 44-year-old actress may not belong to Hollywood's most slender actresses but she practices a healthy lifestyle for her general well-being. This is the reason why she manages to work so hard while being a mother of two. Basically, she avoids eating junk foods and stays away from canned or processed foods, aware the negative effects of such. For breakfast, she typically has boiled eggs and a glass of milk.
For lunch, she mostly has chicken accompanied with some veggies for a balanced diet. Her last meal of the day, her dinner, mostly consists of light foods, such as sea foods then she finishes her meal with some cookies to indulge into her cravings, though she applies portion control always. In addition to these, Amy likes drinking tea with some honey in it to help her relax and be invigorated at the same time, and she drinks lots of water throughout the day to keep her hydrated. Drinking water also prevents her from feeling hungry more frequently and helps in cleansing her body.