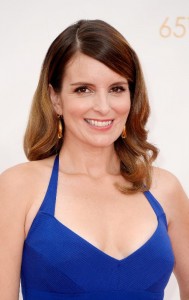 The multitalented American celebrity Tina Fey is an actress, comedian, writer, and producer. Her contribution in the industry, particularly in comedy, has been widely recognized not just in her country but worldwide as well. Beginning her comedic career in the group The Second City, she got her big break when hired as a writer for Saturday Night Live. She was eventually promoted as head writer and became a performer on the show, too. She explored writing opportunities outside of television, writing the movie Mean Girls, which became successful. Afterwards, she starred in the comedy-drama Baby Mama released in 2008. Other acting credits on the big screen are in The Invention of Lying, Date Night, and Admission. Mostly notably, she's known for her creating, producing, and acting as the lead in the award-winning comedy series 30 Rock. After this, she started working on another comedy show Unbreakable Kimmy Schmidt, in which she serves as the co-creator, writer, and executive producer. She has recently starred in the 2015 film Sisters.
The 45-year-old star still looks fantastic despite being in her mid 40s, achieving this through healthy lifestyle. She admitted, however, that this was not always the case. When she was only in her early 20s, she said she was more carefree of her eating habits, which means she eats whatever she wants. She said in an interview: Before, I used to be one of those people who wouldn't eat anything all day, then eat a piece of cake at 4 p.m., McDonald's at 10 p.m., and then go to bed.
But when she hit her late 20s, she noticed that her unhealthy habits had taken its toll, most particularly on her weight, which she said wasn't normal for a woman her age at the time. So upon noticing this, she tried to change her ways. She did this through the help of Weight Watches, teaching her how to eat healthy and how to practice portion control. The program was effective because she lost 35 pounds by the time she turned 35. She was able to achieve this by eating lots of beans and kale. Her cravings? Sweets, particularly white cake with white icing.