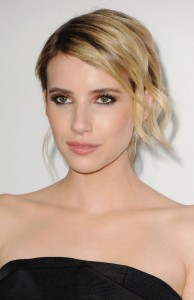 Julia Robert's niece Emma Roberts is a star in her own right. Following her famous aunt's footsteps, she also embarked on an acting career at a young age. Making her debut when she was 10, she rose to stardom at age 13 when she starred on the Nickelodeon show Unfabulous in 2004. She played the lead role until 2007 for three seasons, establishing her name as a teenage star. She simultaneously starred in the teen movie Aquamarine in 2006 and went on to secure the lead role in the movie Nancy Drew released the following year. She subsequently starred in Wild Child and the ensemble film Valentine's Day. She continued her movie career in the 2010s with starring roles in Scream 4 and the box office hit We're the Millers. She returned to the small screen with a role in American Horror Story, and recently in Scream Queens for which she played the lead role.
The 24-year-old American actress is one of the popular young stars in Hollywood and her family name surely helps, but she's managed to build her own career on her own using her knack for acting, beauty, and wit. Standing at 5'2, the petite star has always been known for being so slim. Despite being young, Emma doesn't let herself consume lots of unhealthy foods, knowing it would take its toll eventually.
Deciding to begin a healthy and a clean diet, she loves eating organic food, which she claims is credited for her slender physique and tiny waistline. By having organic food most of the time, her body is supplied with enough vitamins, minerals, carbs, and fiber that not only makes her look good, but also makes sure she doesn't get sick. Also, she drinks lots of water as a way of flushing toxins out from her body. It even helps her to have a faster metabolism and controls her appetite for junk foods. She has some cravings as well, such as pizza and sweets, but she indulges in her favorites only on the weekend.