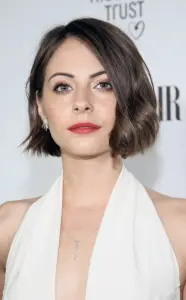 American actress Willa Holland was exposed to the world of acting at a young age, being the former stepdaughter of director Brian De Palma. It was even Steven Spielberg, De Palma's friend and fellow filmmaker who convinced the latter to show her the ropes of acting, to which she was taken to a talent agency next. At age 10, she made her movie debut, but it took her several years to work more productively on the screen. In the mid 2000s, she became known for her role in The O.C., becoming a main cast on its fourth season. Afterwards, she had a recurring character in Gossip Girl, though it was her role as Thea Queen or Speedy in Arrow that earned her mainstream prominence, a role she plays up to now. As a movie star, she's slowly building her career by acting in a couple of them, such as in Legion, Chasing 3000, and Straw Dogs.
24-year-old Willa Holland is deliberately turning herself to a much more talented actress. With a few strong credits on both and film and television, it can be assured that the young star has only stardom on her plate. Standing at 5'5 ½, she's also remarkable for her slender physique, making her look almost modelesque. While she's naturally beautiful and sexy, the celebrity also needs to keep her end of the bargain to maintain her thin figure and develop her body into being more lean and agile.
This is especially because she plays a masked vigilante in Arrow, which means she needs to look the part of a tough young woman. To achieve this, Willa works out and eats healthy foods most of the time. She mostly likes eating veggies, such as broccoli and cauliflower. She also incorporates garlic, mushroom, cayenne pepper, and beets and artichokes into her meals. Her source of carbs mainly comes from wild rice while she has mackerel and other fishes for proteins. In addition, she loves eating long beach shrimp salad.