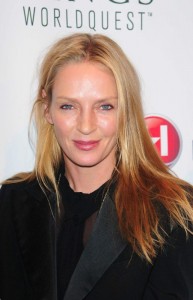 American actress Uma Thurman began the journey of her acting career in the 1980s, though she was a model first before becoming a full-pledged actress. She made her debut in cinema in 1987 and has since landed roles in a couple of films, though it was in 1988's Dangerous Liaisons that got her significantly noticed. She then got starring roles in her subsequent films, but it wasn't until Quentin Tarantino cast her as Mia Wallace in Pulp Fiction (1994) that Uma's stardom was solidified. She next starred in superhero film Batman & Robin, the spy film Gattaca, and the spy film The Avengers. International prominence soon came in 2003 upon collaborating with Tarantino again with Kill Bill: Volume 1 as the lead character, a role she reprised in Kill Bill: Volume 2 the following year. Uma has continued acting on the big screen afterwards, though none of her subsequent roles has matched the successes of her previous works. Her most recent films are Nymphomaniac (2013) and Burnt (2015).
45-year-old Uma Thurman is hugely fabulous for having maintained her slender figure all these years. The actress has naturally defied the physical consequences of being in her mid 40s and being a mother of three by staying fit and lean all these years. Surely, Uma had undergone a special dietary regimen and workout routine when shooting Kill Bill back in the early 2000s, so she must have continued doing some of the tricks she had learnt back then. Interestingly, the American actress has been linked to practicing a couple of dieting techniques in the past, such as the macrobiotic diet and the raw food diet.
However, these claims would seem illogical since Uma was breastfeeding when she needed to lose weight to prepare for her role in Kill Bill as she had just given birth to her second child at the time (2002), thus, eating healthy was required of her to ensure her baby's health, too. Normally, Uma eats a Greek omelet with tomatoes, zucchini, olives, and feta cheese for breakfast. She then opts a Cobb salad for lunch, then proceeds to eating soy lasagna or pumpkin bisque soup paired with grilled garlic chicken, asparagus, and red peppers for dinner. Of course, the former model also munches on something for snacks, mostly peanut butter spread, fresh fruits, and whole grain toast, to name a few.