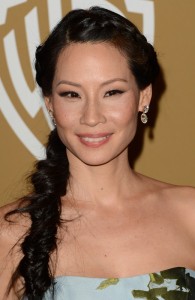 Chinese-American actress Lucy Liu began acting in the early 1990s, although her first main role came in the mid 1990s with the short-lived series Pearl. Before the '90s had ended, Lucy got lucky after winning the part of Ling Woo in Ally McBeal, which not only earned her recognition but also acclaim as she gained a Primetime Emmy Award nomination for Outstanding Supporting Actress in a Comedy Series. She secured international prominence in 2000 courtesy of her starring role in Charlie's Angels alongside Drew Barrymore and Cameron Diaz. She reprised the said role in Charlie's Angels: Full Throttle (2003). She next played Kitty Baxter in Chicago (2002). She's also best known for starring in Kill Bill: Volume 1 and Kill Bill: Volume 2. Lucy is notably known for mostly starring in action-oriented feature films like Domino, Rise: Blood Hunter, Lucky Number Slevin, and The Man with the Iron Fists. She returned to television in 2012 after she began playing a lead role in Elementary.
47-year-old actress may be nearing her 50s, but it surely is not the case when you look at her kick ass in her latest work on both film and television. Even though she's known for starring in action films, the actress said that the most challenging she's ever done physically was in Charlie's Angels because she had to train eight hours per day and five days a week to perform her actions scenes more efficiently. Now as busy as ever, Lucy tries her best to still workout despite her busy schedule. Of course, Lucy follows a healthy diet. How else could she achieve a fit and toned body like hers without the help of nutritious meals.
Before noon, she usually has juice typically made of berries and bananas. If she gets hungry in the morning, she has breakfast burrito with spinach, a fried egg, and tomatoes. At dinner time, Lucy prefers to eat fish with steamed vegetables or a salad. Because she's mostly active with her work, she also eats veggie pizza or pasta as she needs more carbs. The good thing about her is that she doesn't feel the need to eat junk foods and sweets, especially when she's exercising. It makes her feel good to exercise, so she doesn't want to ruin it by eating unhealthy foods.