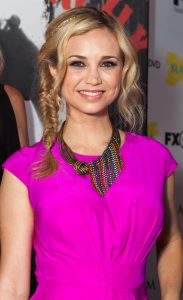 Fiona Gubelmann debuted in 2003 when she appeared in an episode of The Mullets. The following year, she had her cinematic debut as Amber in the comedy film Employee of the Month. She next had roles in the straight-to-video films Blue Demon and Horror High. Her next role was in the 2007 feature film Blades of Glory. At the same time, she landed many guest appearances on the small screen. This includes one-time roles in CSI: NY, My Name Is Earl, Knight Rider, The Closer, and Californication.
Gubelmann had her breakthrough after getting the part of Jenna Mueller in the comedy series Wilfred. Starring opposite Elijah Wood, she played the said role between 2011 and 2014, gaining her wider recognition. Simultaneously, she had guest roles in Parenthood, Criminal Minds, Wedding Band, Guys with Kids, Modern Family, and New Girl.
Also in the 2010s, she continued her film career with performances in Downstream, Sex Tax: Based on a True Story, Super Buddies, and Don't Blink. Back on TV, she guest-starred in Mad Men, The League, and iZombie. She went on to star in the TV movies Dispatch, Mommy's Little Girl, and Tulips in Spring. In 2017, she played Lori in 4 episodes of One Day at a Time. She also starred as Heather Flynn-Kellog in the comedy-drama series Daytime Divas. As of 2018, she stars as Dr. Morgan Reznick in the ABC series The Good Doctor.
Apart from her super healthy diet plan, the actress takes care of her body by sticking on an active lifestyle. She achieves this through constant workouts, which is something that she's since incorporated into her daily lifestyle. She mixes cardio, yoga, Pilates as part of her workout routine. She also consistently tries out new classes to spice it up. When busy and can't exercise, she makes up for it by walking and not using elevators when doing errands.