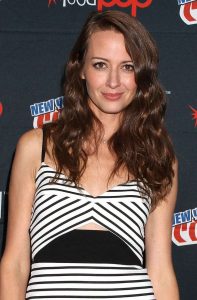 Hollywood star Amy Acker had her career beginnings in the late '90s on the small screen. In the 2000s, she had her first starring role as Winifred 'Fred' Burkle/Illyria on Angel. She next starred as Kelly Peyton on Alias. Afterwards, she had numerous guest appearances on television. She also played a recurring character on Dollhouse, as Dr. Claire Saunders. Also in the 2000s, she appeared in the movies Groom Lake, Catch Me If You Can, and 21 and a Wake-Up. In the 2010s, she had roles in the films Sironia, The Cabin in the Woods, Much Ado About Nothing, and Let's Kill Ward's Wife. She also became known for starring as Samantha "Root" Groves on Person of Interest. She recently starred as Caitlin Strucker on the TV series The Gifted.
She may be in her 40s, but the television star makes sure she takes care of herself. She does this by eating a clean and a well-rounded diet. She basically avoids eating junk and processed foods as they usually make her weak, bloated, and lethargic. She focuses on eating nutritious foods in all her meals, even her snacks to sustain her healthy weight and high energy levels. Working on many shows, it is vital for her that she has sufficient energy to last throughout the day. Eating healthy helps her do that.
Knowing that breakfast is the most important meal of the day, she starts her day right by eating healthy in the morning. Having a healthy breakfast also helps kick start metabolism, which is crucial for maintaining a healthy weight. It also helps curb hunger throughout the day. So, she mostly has eggs, toast, or whole grain cereal in the morning, as well as a fruit juice or a cup of coffee. For lunch and dinner, it's mostly fish and chicken for her with veggies. For snacks, she typically has fruits, nuts, and yogurt.