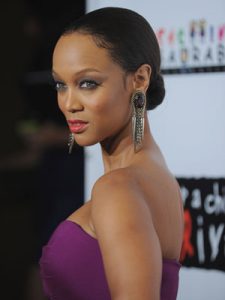 American model and TV star Tyra Banks started her career as a model during her teens. She achieved mainstream success as one, becoming the first African-American woman to grace the covers of GQ and the Sports Illustrated Swimsuit Issue. She later became a Victoria's Secret Angel. In 1993, she made her acting debut as Jackie Ames in The Fresh Prince of Bel-Air. She later made her first movie appearance in 1995's Higher Learning. Her next movie was in Love Stinks.
In the 2000s, she had notable roles in the films Love & Basketball, Coyote Ugly, and Halloween: Resurrection. She also appeared as Jane Scott in three episodes of Felicity. During this period, she also hosted her own show, America's Next Top Model, also serving as one of its judges. This ended in 2015 but recently returned in 2017. She was also the host of the show The Tyra Banks Show. Since 2017, she's also been hosting the show America's Got Talent.
Tyra Banks has struggled with her body image being a model with a curvaceous figure. But she's now learned to be more confident. For her, it's important to embrace her curves. What matters to her is that she follows a healthy lifestyle. She mostly focuses on eating healthy foods, which means clean and whole ones. She avoids eating processed foods and any other items made from refined ingredients. She does it to maintain her slender figure, yes, but she's also cautious of the foods she consumes to also feel fit, strong, and healthy in general.
In an interview, Tyra Banks talked about how she stays healthy. She said: "My nutritionist says, 'If you bite it, write it.' Writing down everything that you put in your mouth really helps. I don't count a damn calorie. But when I'm really trying to eat healthy, I write everything down. It really holds me accountable and puts me on a healthier path."