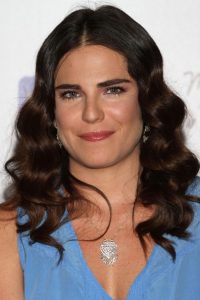 It was in 1993 that Karla Souza made her debut in the movie Aspen Extreme. However, she only pursued acting full-time in the 2010s. She did so on Mexican television with her first starring role on the telenovela Verano de amor. She has since starred on other Mexican shows, including Los Héroes del Norte, Niño Santo, and La Clinica. Wanting to expand her career, she also pursued a career in Hollywood with her debut in the movie From Prada to Nada. She was then cast for the role of Laurel Castillo. This is one of the main characters on How to Get Away with Murder. She's been part of the show's main cast since 2014. This year, she played the lead in the film Everybody Loves Somebody.
The Hollywood star maintains her health and fitness by not only eating healthy but also being physically active. Despite her crazy schedule, she makes it a point to exercise. In an interview, she's mentioned that exercising is one of the things she does to be beautiful and healthy inside and out. She said: " I exercise and move at least once a day to get the endorphins and blood flowing, because when you feel good, you look good!"
"Sometimes I'll do a set of relaxing stretches to get the tension out of my body – I find it soothing to relax both mind and body," she added. In addition, she also tries to work out before every shoot. Since exercising makes her feel great and basically boosts her energy levels, that's what she does to make herself ready when she's shooting for the hit show How to Get Away with Murder. She said: "I do hot room exercise to sweat off extra unwanted bloating and use collagen aloe vera under eye cold patches just before makeup," she stated.