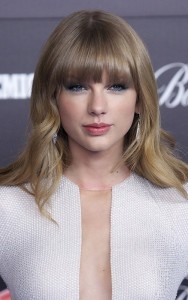 The former country singer Taylor Swift is certainly now a massive star in her own right. Starting her career when she was 14 by moving to Nashville, the launching of her career in 2006 when she was only around 17 with the release of her debut album established her as a promising singer and composer. Since then, Taylor has released four successful albums: Fearless, Speak Now, Red, and 1989. Some of her biggest hits are "Love Story", "You Belong with Me", "Mean", "We Are Never Ever Getting Back Together", "I Knew You Were Trouble", "Shake It Off", "Blank Space", and "Bad Blood", with the last three from 1989 much more pop-oriented.
Not only is Taylor successful commercially, she's been the recipient of several awards, having received seven Grammy Awards, one Emmy Award, 22 Billboard Music Awards, 11 Country Music Association Awards, eight Academy of Country Music Awards, and one Brit Award. The 26-year-old artist also ventured into acting, making her theatrical debut in the ensemble romantic comedy film Valentine's Day, followed by a voice role in The Lorax and recently in 2014's The Giver.
There's no qualms when it comes to Taylor's huge success as an artist that she even became the youngest woman to be included in Forbes' "100 Most Powerful Women" in 2015. Having sold about 40 million albums all over the world, it's not even surprising. Standing at 5'10, Taylor is also known for her long stature. With her towering height is her slender figure as well. Despite her busy schedule with recording, concert tours, and guest appearances, Taylor allots her effort and time for her health and fitness. Aside from working out, the singer-songwriter also makes it a point to be careful when it comes to the food she eats.
Generally, Taylor loves to eat and loves to cook as well. Her being skinny doesn't mean that she starves herself to look that way. Being thin is her natural body type, which most girls would surely be envious about, aside from the fact that she's a millionaire at a young age. So, being the food lover that she is, she relishes on her favorite meals but is cautious when it comes to the amount she's having. Most of the time, she keeps it light. During the weekdays when she's mostly working, she energizes herself by mostly having yogurt, sandwiches, and salads. In addition, the famous celebrity also stays away from drinks high in sugar like sodas. She also keeps it light when it comes to drinking coffee. Interestingly, Taylor is fond of burgers and fries, which she usually eats during weekends.