Early Life to American Idol Victory
Carrie Marie Underwood was born on March 10, 1983 in Muskogee, Oklahoma to parents Stephen and Carole Underwood. She has two older sisters, Shanna and Stephanie. She began singing as a child, performing at the Robbins Memorial Talent Show and for local events in Checotah, Oklahoma. She also sang at her local church.
When she was 14, a local fan of Underwood helped her to travel to Nashville to audition for Capitol Records. The company was already preparing a contract for her but it was cancelled when company management changed. During her high school years, she was a cheerleader, a member of an Honor Society and played softball and basketball. In 2001, she graduated from high school as a salutatorian.
She chose not pursue singing after high school and instead enrolled at the Northeastern State University in Tahlequah, Oklahoma, where she graduated magna cum laude in 2006 with a degree in Mass Communication and an emphasis in Journalism. During her time at the university, she competed in several beauty pageants and eventually finished as Miss NSU runner-up in 2004.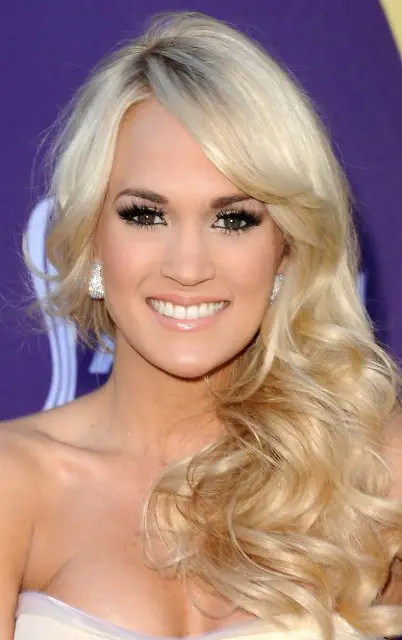 Underwood joined the reality television show American Idol in the summer of 2004, auditioning in St. Louis, Missouri. She was declared the winner of the show's fourth season on May 25, 2005, winning her a recording contract worth at least a million dollars, a Ford Mustang convertible and use of a private jet for a year.
A musical career immediately followed with the release of her first single "Inside Your Heaven" in June 2005, where it peaked at Number 1 on the Billboard Hot 100. With this accomplishment, she became the first country music singer to debut atop the Billboard Hot 100 chart since country group Lonestar's "Amazed" did so in 2000.
Her debut album, Some Hearts, was then released in November 2005. It debuted at Number 1 on the Billboard Top Country Albums, Number 2 on the Billboard 200 and also became the best-selling album in 2006 in the United States with the hit song "Jesus, Take The Wheel".
For her work on her first album, Underwood earned four Grammy nominations and won her first two Grammy Awards: Best New Artist and Best Female Country Vocal Performance for "Jesus, Take the Wheel". By winning the Grammy, she became the second country music artist to ever secure the coveted award, following LeAnn Rimes in 1997.
In October 2007, her second album, Carnival Ride was released. The album generated the singles "So Small", "All-American Girl", "Last Name", "Just a Dream", and "I Told You So". She also received various accolades for her second album, including five Billboard Music awards and was named the Female Vocalist of the Year at the Academy of Country Music Awards in 2008.
In November 2009, she released her third album, Play On. It also debuted atop the Billboard 200 and Top Country Albums. Play On spawned the songs "Cowboy Casanova", "Temporary Home", "Undo It", and "Mama's Song". Her fourth album, Blown Away, was released three years later on May 1, 2012, with the songs "Good Girl", "Blown Away", "Two Black Cadillacs" and "See You Again".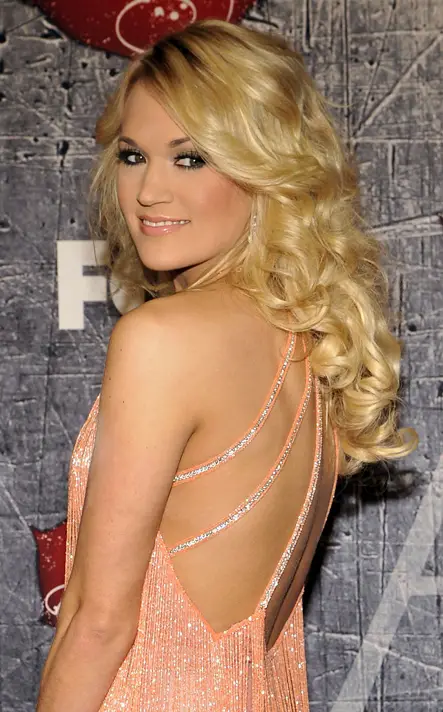 Continued Recording Success, Other Ventures and Plastic Surgery
She then had her international arena tour, the Blown Away Tour, which consisted of concerts in the UK, Australia, and numerous shows in North America. She finished her Blown Away tour in late May 2013, performing to one million fans across three continents and six countries. Underwood has also ventured into acting, appearing in such television shows as How I Met Your Mother, Sesame Street, and Blue Bloods.
She also starred as Maria von Trapp in the NBC television special The Sound of Music Live! In 2011, she made her feature film debut in the biopic drama Soul Surfer, starring alongside AnnaSophia Robb, Helen Hunt and Dennis Quaid. The film received mixed reviews from critics but was a box office success, grossing more than $47 million on an $18 million budget.
Underwood has certainly turned into a great success but it may not be enough for the singer as she recently sparked rumors that her beauty may have been surgically enhanced. Plastic surgery experts checked the country singer's appearance in a report from the June 23rd edition of Life & Style Magazine.
In the said report, experts concluded that the 31-year-old Grammy-winning artist seems to have undergone a cosmetic procedure at least once since she entered the show business after winning the American Idol back in 2005. Beverly Hills plastic surgeon Dr. Jon Perlman said: "Carrie's features seem to be enhanced by rhinoplasty that narrowed her bridge and reduced her natural bump and tip."
Fellow Beverly Hills plastic surgeon Dr. Payman Simoni shared Perlman's conclusion when he said that Underwood's original nose looked wider and less feminine but it has since been enhanced, thanks to a successful nose job. He later praised Underwood's recent appearance, saying that her new nose is in balance with the rest of her face. He added: "It hasn't created a major drastic change in her overall appearance, but she looks more feminine and refined."