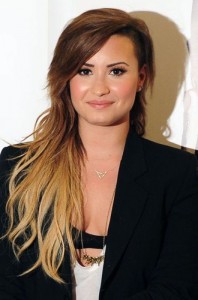 23-year-old Demi Lovato is now new and invigorating with the release of her latest album Confident in 2015. Initially beginning her career as a child, she eventually landed her big break for her starring roles in the Disney TV films Camp Rock and Camp Rock 2: The Final Jam. This led her sign a recording deal and launched her recording career with the release of her first album Don't Forget in 2008. She got more popular afterwards, thanks to her lead role in the Disney sitcom Sonny with a Chance. She followed her debut album with Here We Go Again released in 2009.
She got more noticed for her depth and talent with the release of her third album Unbroken in 2011, which reflected her personal struggles. The hit song "Skyscraper" made it all more apparent. She then became a judge on the American version of The X Factor on its second to third season. Leaving the show, she released her fourth album Demi with the hit song "Heart Attack". Her latest and fifth album Confident has already the hit single "Cool for the Summer". She also made a notable recurring appearance on Glee.
Her aforementioned personal dilemmas involved depression, self-harm, and an eating disorder. She has since gotten better since entering a rehab in 2010. Part of her changes not only came from her entering a rehab, it also came from her own with her self-imposed discipline when it comes to her lifestyle, particularly her eating habits, considering she suffered from bulimia before. In the present, the singer/actress is healthy, fit, and confident. She has learned a lot about her pain and is now redirecting all her efforts and energies in inspiring other people and improving herself.
As to how she takes care of herself, aside from regularly working out, Demi also makes sure she eats healthy. She begins her day by having a nutritious breakfast that includes a bowl of cereal and a fruit to keep her energized. She follows it with lunch, which consists of sandwich, salad, and vegetables. Her last meal of the day usually consists of macaroni with cheese, vegetables and a glass of milk. Cautious of her health, Demi regularly eats her meals three times a day.