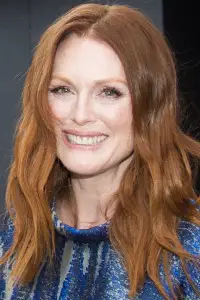 Award-winning Julianne Moore may already be in her 50s but stardom and awesome Hollywood projects surely doesn't evade her. Starting her career with roles on television, most particularly in the soap opera As the World Turns, she first appeared on cinema with Tales from the Darkside: The Movie and later achieved prominence for her performances in Short Cuts, Vanya on 42nd Street, and Safe, all released in the 1990s.
Her roles in The Lost World: Jurassic Park and Nine Months, also in the 1990s, cemented her fame as an A-list actress. Being a top-caliber star, she has been nominated for an Oscar a couple of times for performances in Boogie Nights (1997), The End of the Affair (1999), Far from Heaven (2002) and The Hours (2002). Her portrayal of Sarah Palin in the TV movie Game Change also won her acclaim in 2012. She received her first Oscar for Best Actress for her lead performance in the movie Still Alice (2014). She has also joined the cast of the Hunger Games series.
Despite her age, it is apparent that Julianne is still beautiful and is also notable for having a slender physique, which she achieves through working out and healthy eating. Because aging is a crucial period in one's life, the actress makes sure that she keeps herself fit by being cautious of her lifestyle, that includes her eating habits. Most importantly, the Oscar-winning star stays away from processed foods as she recognizes the harm that such foods can bring to her and her family. This is the reason why she prefers cooking at home because she gets to decide what ingredients to put in her meals.
She's mostly fond of lean fish, eggs, green veggies, and fruits, which she usually consumes to keep her hydrated, strong, and healthy. Naturally, she avoids eating dairy foods and anything high in sugar. She also avoids drinking alcohol. Furthermore, she practices detox diets to flush the toxins out of her body. This way, she feels clean and healthy from the inside out.