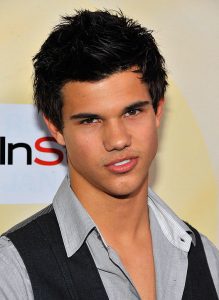 Starting his career at a young age, Taylor Lautner was a martial artist first prior to pursuing a career in acting. He began acting on television with roles on The Bernie Mac Show and My Wife and Kids. He also worked as a voice actor during this time. He later notable roles in the well-known films Cheaper by the Dozen 2 and The Adventures of Sharkboy and Lavagirl in 3-D. Further success on the big screen came in the late 2000s after getting cast as Jacob in Twilight. In the second Twilight film, he changed his physical look and became more buff, establishing himself as a teen idol and sex symbol. He went on to reprise his role in all Twilight movies. This led him to secure lead roles in Abduction and Tracers.
Part of Taylor's sudden stardom was him becoming more muscular, which certainly made him more attractive, especially among female audiences. But of course, it didn't come out east for the actor as he had to work hard, engaging himself in rigorous routine and strict diet plan to achieve his now amazing body. For his remarkable physical transformation for New Moon and the rest of the Twilight films, the actor has the following dietary regimen:
For breakfast, he typically has four eggs, yogurt, whole wheat toast, and orange juice to start his day right. Interestingly, Taylor eats every two hours, so he's into snacks like nuts and strawberries and blueberries. For lunch, he has roasted chicken, rice, a cup of green beans, and fish. Her last meal of the day, dinner, consists of salmon,sweet potato, mixed veggies, and green tea. Proteins are important for him. He also eats right away after his workout sessions, eating a protein bar, banana, and raspberries to make sure he fills himself up with healthy food.