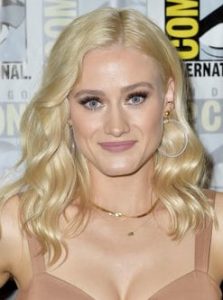 Hollywood star Olivia Taylor Dudley first appeared as a dancer in the film The Anna Nicole Smith Story. She next had small roles in the movies Remembering Phil and Birds of a Feather. In 2011, she made her television in an episode of NCIS. At the same time, she appeared as Elizabeth Clark in 3 episodes of CSI: Miami. She next had a role in the film Chernobyl Diaries, as well as guest-starred in Don't Trust the B—- in Apartment 23.
Her next works were in The Mindy Project and Arrested Development with one-episode roles. From 2013 to 2014, she starred in the web series Uproxx Video. In 2014, she worked in 3 films: Dumbbells, Transcendence, and The Barber. She became more prolific the following year — she had roles in the movies Appleton, Dude Bro Party Massacre III, and The Vatican Tapes.
She also became known for her role as Skyler in Paranormal Activity: The Ghost Dimension. It was during this period that she gained mainstream recognition on TV. It was due to her starring role as Alice Quinn on the Syfy series The Magicians, which she still plays up to present. She simultaneously played recurring character Billie Gunderson on Aquarius.
The actress has always been a healthy eater. Her clean diet plan largely contributes to her toned and healthy figure. "I have always been big about eating healthy. I was a vegetarian for fifteen years and, in that journey, I learned to cook a lot of my meals. I think cooking for yourself really helps you feel good," said The Magicians star.
"I only buy organic, and local if possible. I also always love a good juice fast every couple of months, just to get my brain working again. It is amazing how the quality of food we eat affects our body function." To motivate her to keep eating healthy throughout the day, she always starts her day right with a healthy breakfast. "I love eggs, greens and coffee in the morning. It's easy and gets my brain going," she said.