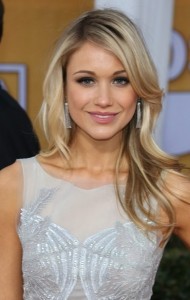 American star Katrina Bowden received widespread stardom for playing Tina Fey's assistant in the critically acclaimed comedy series 30 Rock. She began playing the said role in 2006, the year which also marked the beginning of her acting career. She portrayed the character Cerie until 2013 when the show ended. Simultaneously, she ventured into movies starting with Sex Drive in 2008, followed by direct-to-video movies. In the 2010s, she's had roles in American Reunion, Piranha 3D, Movie 43, Scary Movie 5, Nurse 3D, and most recently in Hard Sell in 2014. On TV, she's recently acted in the TV movie I Killed My BFF, as well as in the short-lived series Public Morals.
Standing at 5'9, the 27-year-old actress is modelesque with her long body form and her slender physique. That's why she was easily recognized as a sexy figure in 30 Rock, including her in numerous sexy lists in various magazines. Though still young and naturally has fast metabolism, Katrina sees to it that she maintains a healthy diet. This further improves her looks, gives her a more toned figure, and of course, keeps her fit and healthy. In the morning, she usually has cereal rich in fiber.
To go with her cereal is almond milk, which she specifically opts because she has a dairy allergy. For lunch, she typically has grilled chicken or tuna salad to fill her up with proteins. To keep her metabolism at work, she mostly snacks on pretzels in addition to fruits, such as cantaloupe, papaya, and any kind of berry. For dinner, she mostly eats fish and veggies. She also likes to have eggs as her source of proteins. Plus eggs are low in calories. In addition, she occasionally has vegan dessert while keeping sweet potato fried always around for her to munch on.