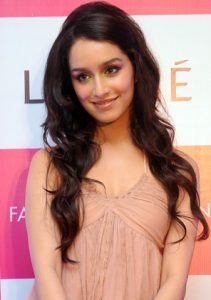 Bollywood star Shraddha Kapoor only recently began her career in the 2010s. Being the daughter of a famous actor, she had her eyes set on movies early on though. Her first movie was in Teen Patti. Subsequently, she had her first lead role in Luv Ka The End. Portraying a singer in the movie Aashiqui 2, she earned critical praise. For this she was also nominated for Best Actress. In the movie Haider she also garnered significant attention for her acting. She's also experienced commercial success with the films Ek Villain, ABCD 2 and Baaghi. Her current movie is the romantic drama Ok Jaanu co-starring Aditya Roy Kapoor.
Turning 31 this year, the beautiful actress stays faithful in her slender figure by making sure she remains fit and healthy. Aside from practicing proper nutrition, she also follows a regular workout regimen to sustain her healthy weight and increase her energy. She feels that by not working out, she only makes herself feel weaker, which is a no-no considering she is a big star in Bollywood with many feature film projects.
Even during her younger years Shraddha loved being active. She was fond of playing sports like basketball and football. She would also go to the gym with her dad. Up to now she continues this healthy habit. When training in the gym, she does a combination of strength training, cardio workouts and interval training as well. As early as 7 in the morning she goes to the gym to perform push ups, pull ups, crunches and stretching. She also does yoga and dance, which help her significantly in achieving a lean and a toned figure. Thanks to her skills in dancing, she was cast in the movie ABCD 2. Aside from playing sports, she also engages herself in outdoor activities like trekking and scuba diving.