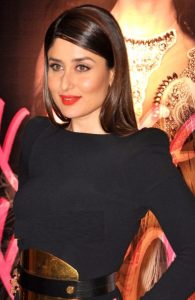 Bollywood actress Kareena Kapoor was born to a family of film stars. She's widely known for her portrayal of multiple characters in various movie genres. With this, she's considered as one of the most versatile performers in Bollywood. In the early 2000s, she started her film career with her debut in Refugee. Her performances in Aśoka and Kabhi Khushi Kabhie Gham… garnered her further success. She experienced career downturn afterwards. Thanks to her roles in Chameli and Dev, she was able to rise again. Her roles in Jab We Met and We Are Family won her Filmfare Awards. She also ended the 2010s with a bang, playing the female lead in the huge box office hit 3 Idiots. One of her latest films is Udta Punjab.
The 36-year-old actress mother of one sustains her healthy body through a clean lifestyle. Despite her busy schedule, she makes it a point to spend time for her fitness. For her, not devoting herself to fitness is like allowing herself to be weaker. This is something that she can't allow. Being a prolific Bollywood actress and a family woman, she needs all the energy she has to do all that needs to be done. And dedicating herself to regular exercises makes her feel stronger and better about herself and about life in general.
The actress' fitness routine involves a combination of cardio, yoga exercises and dance. Each day for 1-2 hours, she works out. This has been part of her fitness routine for a long time. She is also fond of yoga. She believes yoga is crucial in harmonizing your mind and body. She does a mixture of power yoga, hot yoga and asthang yoga. The actress mainly credits yoga in maintaining her slender figure and overall healthy body. She also likes cycling as part of her cardio exercises.