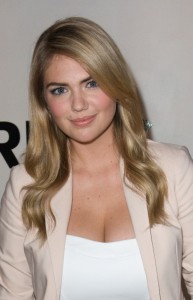 American model and actress Kate Upton has recently established herself as a well-known figure in both the modeling and acting industries. It was in 2008 that she officially began modeling after being signed. Her first appearance for the Sports Illustrated Swimsuit Issue was in 2011. Following this, she was named Rookie of the Year. That same year, she ventured into acting making her first movie appearance in Tower Heist. She next acted in The Three Stooges (2012). Further success as a model came after landing the cover page of Sports Illustrated Swimsuit Issue in 2013. Her most recent work on the big screen was a starring role in The Other Woman (2014).
Standing at 5'10, Kate is hard to miss with her pretty face and curvaceous figure. Now a well-known celebrity backed up by her massive sex appeal, the 23-year-old is a frequent charmer on several prominent magazines. She's also one of those models who embrace their voluptuousness instead of trying hard to look skinny. For one, it's probably Kate's natural body, but how does she maintain it? Aside from working out to make sure she stays fit and healthy, Kate also practices healthy eating. Given this, the model-actress eats regularly.
She begins her day early in the morning with a sturdy breakfast, eating scrambled eggs, with spinach and green tea. At around 10 in the morning, Kate snacks on raw almonds and a glass of green juice. For lunch, she usually has quinoa with herb-crusted grilled chicken and grilled vegetables for a balanced meal. At four in the afternoon, she takes snacks again, typically munching on protein bar. At night, she'd go for veggies and lean protein, often having sashimi or a kale salad with grilled salmon and cashews. She mostly sticks to this diet most of the time, though she opts to go on a 2-day juice cleanse before a shoot.