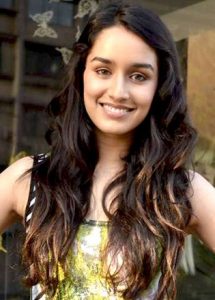 Bollywood actress Shraddha Kapoor recently began her film career in the 2010s. After a short role in the movie Teen Patti, she played her first lead role in 2011's Luv Ka The End. Her starring role in the romantic drama Aashiqui 2 gained her further prominence. She was even nominated for a Filmfare Award for Best Actress. She cemented her fame in Bollywood with her most recent work on the big screen. This was after starring in the movies Haider, Ek Villain, and ABCD 2. She also recently starred in 2016's Baaghi. These films were also box office hits, contributing to her popularity.
The 29-year-old actress maintains her slender figure through healthy eating. As she's nearing her 30s, it becomes more important for her that she chooses what she eats all the time. Proper nutrition is crucial in order to maintain one's healthy weight and to obtain fitness as well. That is why she only focuses on eating nutritious foods. She avoids unhealthy ones, such as fried foods and those high in sugar. She focuses on eating lean proteints and foods high in antioxidants like fruits and vegetables.
For breakfast, she normally has poha or upma. She also eats egg whites or an egg white omelette from time to time in the morning. For lunch, she has 3-4 rotis with some green vegetables and along with a bowl of dal. For dinner, she makes sure she eats at 8 pm. Generally it is not good to eat late dinner and she knows this. She typically has 2 slices of whole wheat bread as well as a piece of grilled fish for dinner. In addition to this, she eats healthy snacks, too. Instead of eating fries or chips, she has protein shake or some fruits. She also drinks lots of water throughout the day for better digestion.