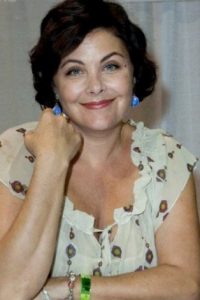 Hollywood star Sherilyn Fenn got her start in the 1980s. During her beginnings, she appeared in the films The Wild Life, Out of Control, and Just One of the Guys. She later played April Delongpre in the movie Two Moon Junction. It was on television that she found success courtesy of her role as Audrey Horne in the television series Twin Peaks. For her performance, she was nominated for Golden Globe for Best Supporting Actress. Following this, she played Billie Frechette in the TV movie Dillinger.
She later performed in the movies Desire and Hell at Sunset Motel, Diary of a Hitman, and Three of Hearts, among others. She returned to primetime in 1998 as Billie Frank in the series Rude Awakening. In the 2000s, she became known for her role as Violet Montgomery in Boston Public and Anna Nardini in Gilmore Girls. She also had roles in the films The United States of Leland, Swindle, and Treasure Raiders. In the 2010s, she played Donna Cochran in Ray Donovan, Queenie Schlott in Shameless, and Karen Street in S.W.A.T. She also reprised her role as Audrey in 2017's Twin Peaks, a continuation of the 1990 series of the same name.
The actress maintains her health and fitness by staying active. This helps her not only stay in shape but also to keep her energy and strength despite her age. In an interview, the actress revealed that she's into transcendental meditation, which she started in the urging of filmmaker David Lynch. She said she started in 2014 and it has since given her positive effects.
For the actress, working out isn't only for staying slim, it's her way of dealing with stress. By exercising, her brain releases more dopamine, helping her to feel relaxed. She also loves doing yoga as means of physical and mental exercise. Of course, taking long walks is also something that she enjoys doing.