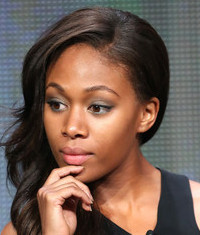 Hollywood star Nicole Beharie debuted in the 2008 film American Violet. She later appeared in the movie The Express: The Ernie Davis Story that same year. Afterward, she had her first TV role in an episode of Three Rivers. She then appeared in the films My Last Day Without You, Shame, Apartment 4E, The Last Fall, and Woman Thou Art Loosed: On the 7th Day.
2013 was a big year for Beharie – she portrayed Rachel Robinson in the film 42, as well as started playing the role of Abbie Mills in the TV series Sleepy Hollow. The series aired on Fox for four seasons, gaining her significant attention. Following this, the actress had performances in the films Monsters and Men and Jacob's Ladder. Her most recent work in the movies was in 2020's Miss Juneteenth, in which she played the lead role. The actress also had guest performances in Black Mirror, Little Fires Everywhere, and Monsterland. This year, she played the role of Nera in the Amazon Prime series Solos.
What is Nicole Beharie's Diet Plan?
Nicole Beharie doesn't follow any strict diet plan, but she does stick to a healthy lifestyle by focusing on nutritious foods. Eating healthy is part of her self-care process since opting for processed foods backfire health-wise. For her, the easiest way to feel good inside out is to just eat clean and eat well.
In an interview, the actress also admitted to developing an autoimmune condition, which has since motivated her to take care of her body. "I'm in a very good place now," said the actress. "I have a very clean diet and do lots of mindfulness and meditation and self-care — which I have to say, I wish it didn't take getting ill for me to really believe in those things."By changing her diet, it helped her recover and she's never felt better.