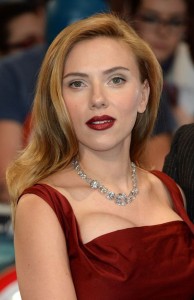 The irresistible Scarlett Johansson is one of Hollywood's most attractive actresses. Her sex appeal is highly referenced in popular culture and the good thing about it is that we all know that she's not just a pretty face. Her talent for performing is praised here and there and most of her ventures in the entertainment industry have been successful. Starting her acting career when she was 10, she rose to stardom for her lead role in The Horse Whisperer (1998). Her performance in Lost in Translation (2003) then earned her a BAFTA Award for Best Lead Actress.
Since then, Scarlett has starred in various movies, most are box office successes, like The Prestige, The Other Boleyn Girl, and Vicky Cristina Barcelona. Most recently, she starred in Don Jon and Under the Skin, her performance in the latter was also highly praised by critics. Internationally, she's known for her portrayal of Black Widow in Iron Man 2, The Avengers, Captain America: The Winter Soldier, and Avengers: Age of Ultron.
Being sexy that she is, Scarlett is the only actress to be chosen by Esquire magazine as the sexiest twice in 2006 and 2013. Nothing comes easy, of course as the actress works out a lot and follows a certain dietary regimen to stay fit and healthy. Being Black Widow also means that she needs to do more than these to make sure she's agile for all her action scenes. Of course, she needs to look strong, too. For breakfast, she usually has two omelettes and oatmeal plus fresh berries, followed by a a quinoa and turkey salad with olive oil and spring onions for lunch combined with lemon juice.
She's not a fan of junk foods. Instead, she opts almonds and apples for snacks. She just makes sure that she keeps it light in her every meal. She makes up for her need for proteins during dinner with a steamed fish with red onions plus broccoli and cabbage. The secret is that even though she maintains light meals, the nutrients in every food she eats is enough to keep her healthy. But just like all of us, the actress also has a weakness for a specific food. For her, she can't say no to cheese!