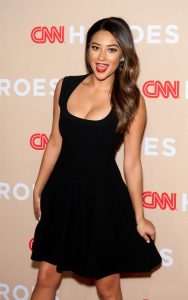 Canadian celebrity Shay Mitchell started her career in the late 2000s. She made her debut on Degrassi: The Next Generation appearing as a minor character. Soon after that she successfully landed the role of Emily Fields on Pretty Little Liars. The show turned out to be widely successful, earning her fans worldwide. She still stars on the show. While on the program, she worked on other projects, too. She recently made her feature film debut in Dreamland. That same period she appeared in the film Mother's Day. She will star in the upcoming movie Cadaver.
The 29-year-old star maintains her slender and fit body though living well. This means she eats right and exercises regularly. Despite her tight schedule, she tries her best to fit in some workout routines to keep her body fit and full of energy. When asked about the importance of fitness, she said: "Well, for me, it's all about balance. A lot of people that know me know that I absolutely love food, pizza in particular. I work out not only to balance food, but also to keep my mind focused."
She added: "And for me, that comes in many different forms. It can be taking a walk outside, boxing, or going to dance. Anything physical has such a positive impact on people; the dopamine and serotonin that get released when you work out—afterward, you feel amazing." In terms of toning up, the actress said she does numerous classes to avoid feeling bored. "I think it's great. I get so amped up with other people in the room, and there's just a really good energy about it. So I'll usually start with a spin class, then it will be something like weights or working out with my amazing trainer—we do a mix of Pilates and leg toning," she said.