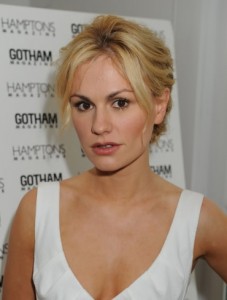 New Zealand actress Anna Paquin started strong as a child actress after being luckily chosen for a main role in The Piano (1993). Her performance in the said film was critically lauded that she was even nominated for a Best Supporting Actress Award at the Oscars. She continued acting in some more movies throughout the rest of the '90s. The subsequent decade proved to be better for Anna as she had a main role in X-Men and its sequels X2 and X-Men: The Last Stand. She also became highly popular among television audiences for her main role of Sookie Stackhouse in True Blood, which she played for seven seasons. Her performance of the lead role on the show also won her a Golden Globe Award for Best Actress in 2009.
Standing at 5'5, Anna has a strong and lean body, which makes her a good choice for playing Rogue in X-Men. Amazingly, Anna believes that feeling good is more important than looking good. For her, it's not just about having a slender figure, it's also about having enormous core-strength, stamina, and endurance, which she has, thanks to her workout routine and healthy diet. Exercises and eating healthy are two equally important aspects that Anna abide to so she can maintain her healthy and gorgeous body.
To practice a healthy eating habit, the award-winning actress stays away from fast foods, black coffee, tea, unhealthy snacks, and desserts. Instead, she focuses on eating nutrient-packed foods and always incorporate fruits and vegetables in her diet. In addition, Anna doesn't believe in crash dieting. She hates the idea of starving herself and depriving her body of essential nutrients just so she could lose weight immediately. Even after giving birth to fraternal twins in 2012, Anna was able to regain her fit body because of her healthy lifestyle.