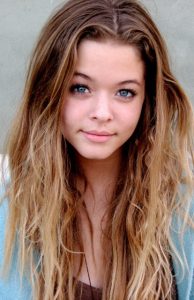 Hollywood actress Sasha Pieterse started her career at a young age. Her debut was on the TV series Family Affair where she played a main role. After the show ended, she mostly landed guest roles on numerous shows. After a guest role on Without a Trace, she had a recurring role as Amanda Strazzulla on Heroes. After this, she landed the role of Alison DiLaurentis on Pretty Little Liars. She was only 13 when she secured the role. She still plays the role up to now. While on the show, she had also appeared/starred in some films. These are in X-Men: First Class, G.B.F., Inherent Vice and Burning Bodhi. She had also starred on the TV movie Geek Charming.
The 20-year-old actress sustains her healthy and fit body by taking care of herself. Aside from eating nutritious foods most of the time, she also tries her best to be active as possible. Having a regular role on a hit show already keeps her active, but Sasha does more whenever she can. She likes doing outdoor exercises with her friends during her free time. She also likes sports. She exercises through doing the basics like cardio. She enjoys running and even as simple as taking a walk.
Despite being young, the actress understands the importance of keeping up with her fitness routine. This is because she knows that exercising is not only to maintain her weight, but to also increase her energy levels. She needs to have the balance between proper nutrition and fitness. Being physically active by engaging even in simple workouts help her to become more invigorated. This helps her to endure long hours during shoots, which makes her do her job more efficiently. Specifically, the Pretty Little Liars actress enjoys indoor climbing. She can be often seen in indoor climbing gyms.