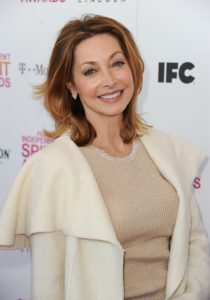 American actress Sharon Lawrence started her Hollywood career in the early 1990s. She debuted with a one-time role on the TV show Civil Wars. She later became widely known for starring as Sylvia Costas on the hit series NYPD Blue, which she played from 1993 to 1999. During this period, she also starred in several made-for-television films. This includes The Shaggy Dog and The Heidi Chronicles, among others. She also starred as Gwen Leonard on the TV series Fired Up. After NYPD Blue, she joined the main cast of the sitcom Ladies Man playing the role of Donna Stiles.
Following this, she played Vivian Cates on the short-lived series Wolf Lake. She went on to have recurring roles as Maisy Gibbons on Desperate Housewives and Linda Fusco on Monk. In 2007, she starred as Tess Wiatt on Hidden Palms, followed by her main role as Jayne on the Canadian series The Line. After this, she had a 3-episode role as Shelby Smith on Privileged. Also during this period, she had performances in the movies Gossip, Little Black Book, and The Alibi. She then had a notable role as Bobbie Dobkins on Drop Dead Diva. In the 2010s, she played Sylvia Baker on One Tree Hill, Dr. Hope Martin on Rizzoli & Isles, and Margo Mierzejewski on Shameless.
The actress is nearing her 60s but it doesn't seem to be the case, as far as her looks are concerned. This is because Lawrence takes care of her body and overall health by sticking to a clean diet. When asked if she follows any special diet in an interview, she said: "I try to eat healthy, with no dairy and little sugar." Another trick she does that's actually quite basic is drinking plenty of water. She also incorporates veggies into her meals and she mostly snacks on nuts and fruits.