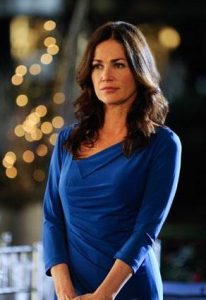 Actress Kim Delaney debuted as Jenny Gardner Nelson on the soap opera All My Children in the early 1980s. For her first role on television, she was nominated for a Daytime Emmy Award for Outstanding Supporting Actress in a Drama Series. She next had her first movie role in 1983's First Affair. She later had performances in the films That Was Then… This Is Now, The Delta Force, Hunter's Blood, Campus Man, Cracked Up, and Christmas Comes to Willow Creek, among others. From 1989 to 1990, she played Alex Devlin on Tour of Duty.
During the '90s, she gained mainstream prominence for her role as Det. Diane Russell on NYPD Blue. For her work here, she won a Primetime Emmy Award for Outstanding Supporting Actress in a Drama Series. She starred on the series from 1995 to 2003. Simultaneously, she had roles in the films The Force, Darkman II: The Return of Durant and Mission to Mars. She also played Kathleen Maguire on the TV series Philly. From 2007 to 2012, she became known for starring as Claudia Joy Holden on Army Wives. More recently, she had a two-episode role as Dr. Nancy Redman on Murder in the First. It was also announced that she'll play the role of Jennifer Sheridan on Chicago Fire.
The 57-year-old actress maintains her slender figure and overall radiance by sticking to a healthy diet. Being in her 50s, she's more naturally conscious about the food she eats. In general, she avoids processed foods, especially ones high in sugar. She sticks to clean, whole foods that pack nutrients. Her diet mainly consists of lean proteins, whole grains, and fruits and veggies. While the actress has struggled with alcohol addiction in the past, she currently is healthier than ever. She makes great efforts to practice a healthy lifestyle characterized by her clean diet plan and workout regimen.