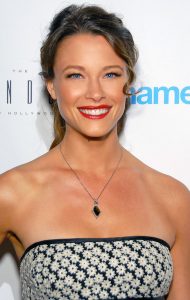 Hollywood star Scottie Thompson had her career beginnings in the mid-2000s. Early in her career, she had one-episode roles in Law & Order and CSI: Miami. She then had a 3-episode role in Brotherhood. Her first significant part on television was as Jeanne Benoit in the CBS series NCIS. She went on to make more guest roles on the small screen. From 2009 to 2010, she starred as Diana Van Dine in the TV series Trauma. At the same time, she made her cinematic debut in the film Star Trek.
In the 2010s, she had performances in the movies Skyline, The Lookalike, The Leisure Class, The Funhouse Massacre, and Before I Wake. She went on to make one-episode roles on television again such as in Rizzoli and Isles and Nikita. She continued doing guest roles in Graceland, CSI: Crime Scene Investigation, Castle, Grey's Anatomy, Rosewood and Zoo. She also had a recurring character in The Blacklist playing the role of Zoe D'Antonio. Her latest work on television was in the made-for-TV movie Hope at Christmas.
To stay in shape, the actress eats right and practices in moderation. She also works out on a regular basis. Because she has a dance background, she's also able to incorporate dancing into her workout routine. One of her go-to exercises is Pilates. "I got certified Pilates 8 or 9 years ago, so I like to practise that," said Thompson. When she's up for dance roles, she takes up dance classes again, which she considers one of the greatest workouts. "I take some bar classes which remind me of ballet but also don't make me feel so inept – my body doesn't work like it used to," said the actress.