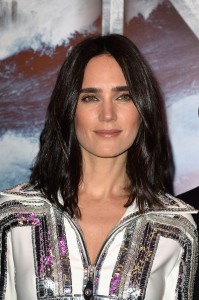 45-year-old Jennifer Connelly started acting when she entered her teens. Before that, she was a child model who appeared in several ads on magazines, newspapers, and television. During the 1990s, she began to receive notice for performances in some films like Career Opportunities and The Rocketeer, and continued such plight with strong performances in Dark City and Requiem for a Dream. Proving her talent and versatility, she won the Oscar for Best Supporting Actress for her role in A Beautiful Mind (2001).
Major starring roles in such movies as Hulk, Dark Water, Blood Diamond, and The Day the Earth Stood Still followed. She also starred in the ensemble romantic comedy He's Just Not That into You. Her most recent roles are Winter's Tale, Noah, Aloft, and Shelter. Jennifer is also a mother of three, one from her previous marriage and two with her current husband actor Paul Bettany. Despite her age, it is apparent the actress still looks great with her healthy and fit body. To make sure she stays that way, Jennifer takes her workouts seriously and is cautious when it comes to her eating habits.
Being a talented actress, Jennifer has controlled how her body would appear for certain film roles like in Requiem for a Dream and the 2014 movie Noah. Though as part of her regular eating habits, the actress is mostly into veggies and fruits. To make it more balanced, she accompanies her vegetable and fruit diet with other nutritious foods that are rich in proteins and healthy fats. Interestingly, before giving birth to her first child in 1997, Jennifer actually practiced a vegan diet. This changed after getting pregnant as she often craved for turkey burger, so she gave in to what her body wanted and she has since gone back to her normal diet. She's also fond of red wine.