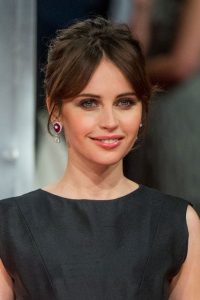 English beauty Felicity Jones was only 12 when she started her professional acting career. Later on, she became known in the UK for her role as Ethel Hallow in The Worst Witch and Weirdsister College. She was prolific on TV in the late 2000s, but became more active in movies in the 2010s. Her first gig in an American film was in The Tempest. She was later noticed for her role in the romantic film Like Crazy. Her first work in a major Hollywood production was in The Amazing Spider-Man 2. At the same time, she was acclaimed for her performance as Jane Wilde Hawking in The Theory of Everything.
The actress pretty much has a thin frame that complements her beauty. Despite looking all thin and fragile, Felicity is actually strong and is all about taking care of herself to stay in fit. She's getting busier all thanks to her blossoming career. But still, she doesn't forget that eating healthy is the key for her to have energy. The energy she needs to perform more effectively. Besides, she's already in her 30s so she knows that it becomes crucial for her to be more cautious of the food she eats, not just for physical reasons, but for health.
She starts her day right in the morning. She never misses breakfast and loads herself up with nutritious food. It can be an omelet, oats, and wheat bread with tea or fruit juice. For lunch, she consumes lean protein in the form of chicken or fish with fruits and vegetables. For dinner, she satisfies herself with a chicken or tuna sandwich and some soup as well. Felicity loves food, so she also eats snacks in between. She still tries to be healthy as possible by mostly having nut, yogurt, and fruits for snacks. She indulges in her cravings once in a while, eating potato chips, muffins, and burgers as long as she eats them in moderation.