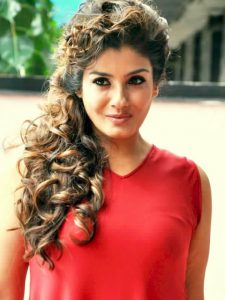 Indian actress Raveena Tandon had her career beginnings in the early 1990s. She debuted in the 1991 Bollywood film Patthar Ke Phool, winning the Filmfare Award for Lux New Face of the Year for her performance. She later starred in the movies Mohra, Dilwale, and Laadla, all of which were successful at the box office. Later in 1995, she starred alongside Shahrukh Khan in Zamaana Deewana. Next, she had performances in the films Khiladiyon Ka Khiladi, Ghulam-E-Mustafa, and Ziddi.
She went on to star in the 1999 Kannada psychological thriller film Upendra. In the 2000s, she continued her film career first starring in Aks, a role that got her a Filmfare Special Performance Award. Her role in 2001's Daman: A Victim of Marital Violence won her the National Film Award for Best Actress. Subsequently, she starred in the films Satta, Dobara, and Sandwich. After a long hiatus, she made her comeback in 2015 when she starred in the film Bombay Velvet. Later in 2017, she starred in the feature film Maatr.
The 45-year-old actress takes care of herself and overall health by eating right. Talking about the Raveena Tandon diet plan, she said: "I'm a non-vegetarian but I restrict myself to chicken and fish. Over the years, I have become very particular about my food habits and so I don't have the tendency to cheat on my diet by eating unhealthy foods."
"It's only on Sundays, when my family go out for lunch or dinner, I indulge in some desserts. I have an early dinner at 7.30 pm and avoid eating carbs after 6 pm. I can't resist the fried bhindi that's cooked at my home. I just can't put it down," added the Bollywood star.