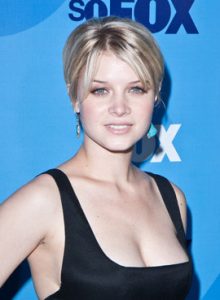 In 2004, screen actress Sarah Jones first landed a role in the television series Medical Investigation. After guest-starring in Cold Case, Judging Amy, and Ugly Betty, she had her first recurring role as Leah in Huff. During this period, Jones also starred as Brynn, a recurring character in Big Love. At that same time, she made her cinematic debut in the 2006 film Cain and Abel. This was followed by acting parts in the movies The Blue Hour and Still Green.
She went on to star in the TV film Murder 101: College Can Be Murder, as well as joined the main cast of the show The Wedding Bells as Sammy Bell. After this, she played Rosaleen in The Riches. In 2009, she starred as Belinda in the television movies Love Takes Wing and Love Finds a Home. That same year, she played Polly Zobelle in Sons of Anarchy. In the 2010s, she guest-starred in House, Lone Star, and Justified before landing the role of Det. Rebecca Madsen in the short-lived series Alcatraz.
From 2012 to 2013, she became known for her role as Mia Rizzo in Las Vegas. Continuing her rising career on TV, she played Pauline Wykoff in Texas Rising. Jones subsequently starred in the shows The Path and Damnation. She recently starred as Tracy Stevens in the Apple TV+ series For All Mankind. She'll star in the upcoming film Chemical Hearts.
To stay fit and strong, Sarah Jones not only eats well, but she also lives an active lifestyle. Her workout routine combines, cardio, simple weights, and yoga. She constantly discovers other fitness regimens to discover what works for her. Pilates, for instance, has since proven to be a big help in terms of strengthening her core. She also relies on simple physical activities, such as running and walking as her means of exercise.