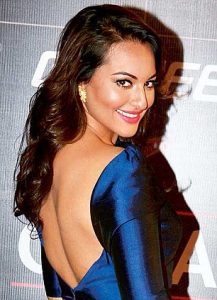 Bollywood actress Sonakshi Sinha entered the film industry as an actress in 2010. She did so with her big screen debut in Dabangg. She made a remarkable debut, leading her to win the Filmfare Award for Best Female Debut. Subsequently she starred in other Hindi films. These are Rowdy Rathore, Joker, and Son of Sardar. She also reprised her role as Rajjo Pandey in Dabangg 2. She was then acclaimed for her performance in Lootera. This got her a Filmfare Award nomination for Best Actress. That same year she starred in Once Upon A Time In Mumbai Dobaara. In 2014, she made her debut in Tamil cinema with Lingaa. Her most recent films are Akira and Force 2.
The actress had a successful weight loss that was made possible by proper nutrition. Now she maintains her fitter body though the same approach and that is healthy eating. In order to lose weight, she practiced a low-carb and high-protein diet, which she still practices up to now. She avoids eating unhealthy foods such as fried or oily foods. She also avoids eating foods that are salty and high in sugar. Now that she's nearing her 30s, she knows it's more important for her to eat healthy as part of her everyday eating habits.
The actress starts her day right by eating a healthy meal in the morning. For breakfast, she typically has whole wheat toast with cereal and milk. For morning snack, she munches on dried fruits along with a cup of green tea. For lunch, she eats homemade veggies and chapattis with fresh salad. She prefers making homemade salads so she can choose healthier ingredients. For her nighttime snack, she has a fruit alongside a cup of green tea. For dinner, she usually has chicken, fish and dal with veggies. She avoids eating carbs at night. She also makes it a habit to drink green tea everyday, as well as lots of water to stay hydrated.