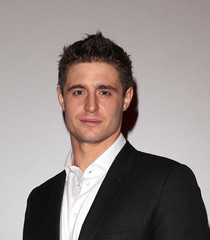 Max Irons' career began in 2004, playing a brief role in the comedy-drama film Being Julia. Some years later, he appeared in the films Unrequited Love and Dorian Gray, the latter of which he played the role of Lucius. In 2011, he starred as Henry in the movie Red Riding Hood and played Tommy Pasqualino in the limited series The Runaway.
Irons rose to fame in 2013 thanks to his portrayal of King Edward IV in The White Queen. That same year, he starred as Jared Howe in The Host. He next starred in 2014's The Riot Club and went on to portray Fredrick "Fritz" Altmann in the biographical drama film Woman in Gold. He next portrayed archaelogist Howard Carter in the miniseries Tutankhamun.
In 2017, Irons had performances in the films Bitter Harvest, The Wife, and Crooked House. After this, he starred as the lead – Joe Turner – in the television series Condor. Around the same time, he also appeared in the BBC One series The Little Drummer Girl. Meanwhile, his latest movie role was as Alfred in the thriller film Terminal.
Max Irons sticks to his workout routine to stay in top shape. To ensure that he's also healthy, he eats well, at least he does most of the time. When preparing for a role, the actor sometimes gets strict with his diet, limiting carbs and sugar and focusing on having proteins and plenty of fruits and vegetables. He also avoids alcohol and rarely eats processed foods.
Interestingly, the kind of diet he does when prepping for a character is not much different to how he normally eats. This is because the actor mostly prefers eating healthily, consciously avoiding carbs, fats, sugar, and sodium. He consumes more healthy fats like nuts and some fish, lean proteins like the ones in fish and chicken, and, of course, lots of vegetables. However, the actor also admits it's hard to steer clear of carbs sometimes. He said he still loves bread, pasta, and pizza but he eats them in moderation.