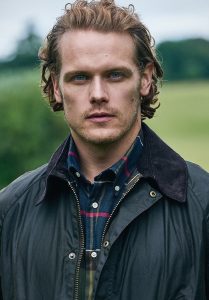 Scottish actor Sam Heughan had his career beginnings in the mid 2000s. During his beginnings, he appeared on the British miniseries Island at War. He next appeared in three episodes of the Scottish soap opera River City. The rest of the 2000s saw him appearing on shows, miniseries, and made-for-television films. His first notable role on the small screen was as Scott Nielson on Doctors. He next portrayed Geoffrey 'Boy' Wellum on the TV movie First Light. This was followd by another TV movie A Princess for Christmas. In the beginning of the 2010s, he starred in unknown films. His major breakthrough came after landing the role of Jamie Fraser on Outlander. He stars in the 2018 upcoming film The Spy Who Dumped Me.
It is obvious that Sam takes care of his physique as his way of prepping for his role on Outlander. Fans of the show would see his muscular figure on the screen, something that he works hard to achieve. Aside from working out rigorously to improve his physique, the actor also implements a disciplined diet plan to help him control his cravings. Basically, his diet portrays a vital part in his fitness regimen because proper nutrition is also vital if you want to improve you physique.
For one, he practices intermittent fasting, which he says works for him quite well. He said: "I found a lot of benefits from it. I sort of eat within a window of eight hours, which was my chosen fast, so 16 hours of time you're not eating. You can eat basically whatever you want within that 8 hours within reason. I really found after the first few days of hell, it actually released me. I felt not controlled by 'Oh, I need to eat now.'" Despite his seemingly strict dieting regimen, he also has a piece of chocolate, too, though he prefers the dark one.