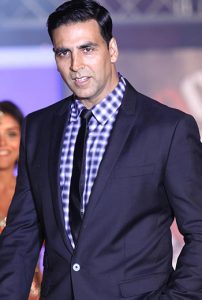 Bollywood actor Akshay Kumar started his acting journey in the 1990s. During this period, he mostly starred in action films. He then gained mainstream fame for his starring performances in the Khiladi film series. He also became known for starring in the action features Waqt Hamara Hai, Mohra, Elaan, and Suhaag, among others. He continued his successful film career in the 2000s. Some of his works during this period are Hera Pheri, Mujhse Shaadi Karogi, and Garam Masala, to name a few. Though he experienced a career downturn from 2009-2011, he made his comeback in 2012's Housefull 2. His movie Rowdy Rathore was also a box office success. His most recent film releases are as follows: Airlift (2016), Housefull 3 (2016), Rustom (2016) and Jolly LLB 2 (2017).
The famous Bollywood actor turns 50 this year. But looking at his ripped physique, it seems aging can't really stop his body from being amazing. According to reports, Akshay leads a disciplined life that helps him maintain his lean and chiseled looking physique. He's also said to be a fitness freak, which is not surprising looking at his body. The actor himself has revealed that he's been following a workout routine for more than 30 years. This is the main reason he doesn't look his age.
Yet the actor reveals that he works out and achieves his body the natural way. He doesn't take anything to help him with his workouts, even powders or shakes. He said: "Today, it has become a joke to take enhancers, powders, shakes or steroids." He added: "When you eat these artificial enhancers, your muscles will die within a month of not exercising. What is the point? There are actors who I know who are writing their regime, basis how many pills and what protein shake to take." It is also a surprise when the actor said that "despite practicing all his life for 32 years, he still doesn't have more than 6 pack abs." Lastly, the actor revealed that he doesn't lift weights at all.