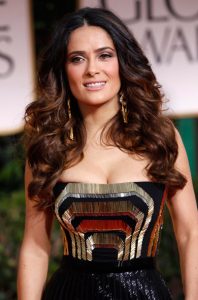 Mexican-American actress Salma Hayek's career first became productive with the telenovela Teresa. Wanting to explore farther, she moved to Hollywood in the early 1990s. It was there that she was noticed. By being noticed means she was cast as Antonio Banderas' love interest in Desperado. This secured her stardom among international audience. She became more recognized for her roles in Dogma and Wild Wild West. For her portrayal of Mexican painter Frida Kahlo, she was acclaimed. For this, she was nominated for an Oscar for Best Actress. She returned to television as a guest actress on the comedy-drama series Ugly Betty. For this, she was nominated for an Emmy. In the 2010s, she starred in the films Grown Ups, Puss in Boots, Grown Ups 2, and Tale of Tales.
The Mexican beauty turns 50 this year and is also a mother of one. But looking at her, it's amazing how the actress has managed to stay fit and healthy all these years. With her age, it's obvious that Salma maintains her slenderness by following a good lifestyle. Aside from making sure she mostly eats nutritious food, she ensures her body is taken care of through her physical routines. Surprisingly, the Oscar-nominated actress revealed she doesn't really work out. The secret to her great and youthful physique? Good posture.
In an interview she said: "I don't exercise… I just hold my body in a way that activates muscles all day long." According to the actress, she basically doesn't have the time to go to the gym or even work out at home because of her work and family. Her daily commitments are intense she said she has 20-hour days. For her, exercising means using all her muscles when doing all her chores. She also said that while some people can exercise in the morning, her body isn't developed to do that. Still, she admits she does yoga whenever she has the time.