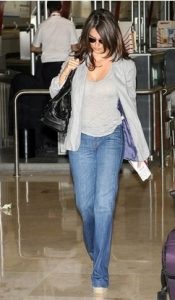 Spanish model and actress Penélope Cruz was in her teens when she was noticed and tapped to become an actress. A year later, she starred in the Spanish film Jamón, jamón. For this, her performance was critically lauded. She then became a star in Spain. She starred in a couple of other Spanish movies after that. By 1998, she had made her debut in Hollywood with The Hi-Lo Country. It was, however, in the 2000s that she got Hollywood fame. This was reinforced with roles in Woman on Top, Vanilla Sky, All the Pretty Horses, Captain Corelli's Mandolin and Blow. Being a talented actress, she was once again acclaimed for her role in Volver, Vicky Cristina Barcelona, and Nine. For Vicky Cristina Barcelona, she won an Oscar for Best Supporting Actress. In the 2010s, she starred in Pirates of the Caribbean: On Stranger Tides, The Counselor, and Zoolander No. 2.
She's 42 this year, but Penélope is as gorgeous as she was when most fans first saw her in Vanilla Sky more than a decade ago. Her beauty and her physique haven't changed despite ageing and motherhood. Starring in her recent film Zoolander No. 2, it was apparent that she has succeeded in keeping fit. Primarily, this is because of her honest-to-goodness lifestyle. She really does know how to take care of herself. In short, she has never looked better and her fans want to know why and how she does it.
Aside from practicing a very healthy diet plan, the Volver actress works out to maintain her svelte physique. Her workouts are mostly dance-based. This is to ensure she enjoys her physical fitness endeavors rather than feeling they're chores that she's required to accomplished. In addition to dancing, she also stays in shape by doing yoga, Pilates, and of course, good old running. Yoga, for instance, facilitates natural weight loss. It also helps in reducing stress.