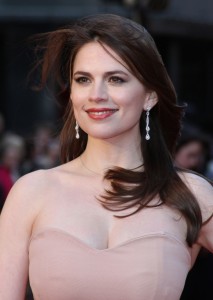 British actress Hayley Atwell is taking international fans' affection through her kick-ass role of Agent Carter on the television series of the same name, which she began playing in 2015. Prior to this, she was the female lead, playing the same character in the superhero movie Captain America: The First Avenger in 2011. Initially, her career started in 2007 and she was first recognized for her supporting role in The Duchess released in 2008. Her most recent movie was in Cinderella, where she played the title character's mother. She has had other appearances on UK television prior to starring on an American show, such as in The Prisoner and The Line of Beauty.
Standing at 5'6 ½, the 33-year-old actress is not only known for her acting skills, but also for her curvaceous figure. Though she's not the average slim actress, Hayley is amazingly fit and toned that she's perfect for her role on television as a heroine. How does she manage to achieve such rocking figure? Basically, Hayley started treating exercises more seriously to prepare for her role in the first Captain America film.
Apparently, being in an action movie takes hard work than usual as this includes rigorous training to look like the art you're playing. In an interview, the actress said she underwent military circuits with her personal trainer as part of her preparation. She also took care of her body through cardio exercises, running everyday and performing countless lunges and squats. Despite the physical challenges, the actress thought she was in the best physical condition she has ever been in when she started doing such training.