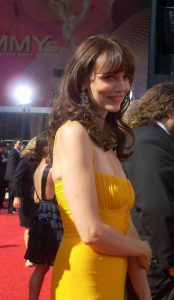 It was in 1992 that actress Saffron Burrows officially started her work as an actress beginning with work on television. Two years later, she made her big screen debut with a small role in In the Name of the Father. She later became recognized for starring in the 1999 film Deep Blue Sea. That same year, she played the titular character in Miss Julie. In the 2000s, she became known for her performances in the films Timecode, Gangster No. 1, Enigma, and Tempted.
She later had roles in Frida, Troy, and Perfect Creature. On television, she became known for her role as Lorraine Weller in Boston Legal. She next starred as Dr. Norah Skinner in My Own Worst Enemy. In 2010, she played Det. Serena Stevens in Law & Order: Criminal Intent. Her next role was as Victoria Hand in Agents of S.H.I.E.L.D. Since 2014, she's been playing the main role of Cynthia in Mozart in the Jungle.
The actress maintains her health and fitness by practicing an active lifestyle. Being an actress, she naturally has an on-the-go lifestyle. Between shoots, she also exercises whenever possible. She loves it when she feels invigorated with an exercise even just for 10 minutes. In an interview, she was asked how she practices beauty inside and out. As a response, she said:
"I try to work out twice a week, which can veer towards nothing at all for weeks, and then a burst of activity. When in cities that are conducive to walking, I like to walk everywhere…and eat frequently, for ongoing energy." She also shared how she loves walking, as basic as it is. She said: "I've found walking seems to help thoughts develop in a good way, and lifts spirits. Find out what suits your body and embrace it." For this reason, the actress, despite nearing her 50s, maintains a slender and a toned figure.