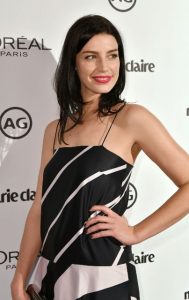 It was in 1990 that actress Jessica Paré made her debut on television. On the other hand, she only became more active in the 2000s. During this period, she appeared in the films Stardom, Lost and Delirious, Bollywood/Hollywood, and Posers. She next appeared in the features See This Movie and Wicker Park. She also joined the main cast of the television series Jack & Bobby as Courtney Benedict.
She later acted in the films The Trotsky and Suck. In 2010, she joined the cast of the movie Hot Tub Time Machine. Afterward, she became further known for her role as Megan Calvet in Man Men. After the series ended in 2015, she starred in the pilot The Interestings. As of 2017, she stars as Officer Amanda "Mandy" Ellis in the series SEAL Team. She has also appeared in the movies Brooklyn and Lovesick.
When it comes to working out, the Canadian beauty is game. She tries her best to stick to an active lifestyle. She does so not only to maintain her slender figure but to also sustain her overall health and well-being. According to her, she workouts four times a week to stay in shape. It is also important for her to do so because missing out on exercise makes her feel awful. In an interview, she talked about her favorite way to stay in shape.
She said: "I would take this class that I really like. It's an exercise and dance class called Barre method. It's like a combination of ballet and Pilates and Yoga. It's a fun class, but totally hard." Basically, she also likes mixing things up. She doesn't stick to a single routine in order to avoid getting bored and it's also recommended to apply variations when it comes to performing workouts to see remarkable results in one's body and health.