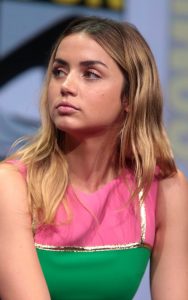 Ana de Armas started her career on Spanish television. There, she starred as Carolina Leal Solís in the popular series El Internado from 2007 to 2010. She also starred in some Spanish feature films. After starring in a few more shows and movies, she decided to pursue acting in Hollywood. In 2015, she made her Hollywood debut as Bel in the feature film Knock Knock opposite Keanu Reeves.
She later landed more roles, such as in Hands of Stone, Exposed, War Dogs, and Overdrive. Her breakout role was as Joi in the 2017 movie Blade Runner 2049. Her role here earned her a Saturn Award nomination. More recently, she appeared in Danny Boyle's latest film Yesterday but her scenes were deleted. She has a couple of upcoming films this year, including Wasp Network, Knives Out, and The Night Clerk. Next year, she'll star in the movies The Informer and Bond 25.
The actress takes it easy when it comes to her diet and workout routine. "The truth is that I'm not very disciplined with diets. In general, I do whatever makes me happy in life, and food makes me quite happy!" said the actress. As for her fitness regimen, she exercises whenever she can while consistently switching her routine so she doesn't get bored. The Ana de Armas workout routine involves combining several activities to spice it up.
"Exercise also makes me happy, but it has to be fun. I do something different every day — one day boxing, the next spinning or weight training — to not get bored," de Armas said. She also loves to be physically active, so when she's too busy to hit the gym, she makes up for it by running, taking long walks, or just as simple as being on the go. Also, she plays sports and engages in other outdoor activities when she has time.